The past few seasons have been very busy for the Rivers Comets. Four years ago the team didn't exist and had no diamond to play on. Finding players was the easy part, building a field would prove more challenging. While there was a footprint at the fairgrounds of the...
read more
The Rivers & Area Community Foundation's grant period opens on September 1st and closes on September 30th each year. Visit our Grant Application Guidelines page to review the granting...
read more
For the past couple of years Prairie Crocus Library has been focused on basic interior improvements. Although a couple of major projects are needed within the building including painting and new flooring, we have come up with smaller projects that have been attainable...
read more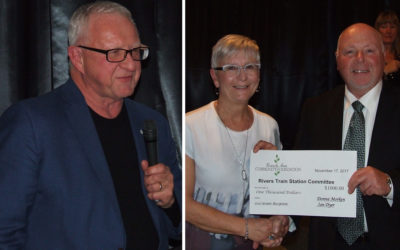 Pictured in the main photo (left) is Kim McConnell, our guest speaker. On the right is Susan Citulsky accepting a grant for the Rivers Train Station Restoration Committee from RACF Director, Ian Dyer. Rivers and Area Community Foundation (RACF) held its first-ever...
read more